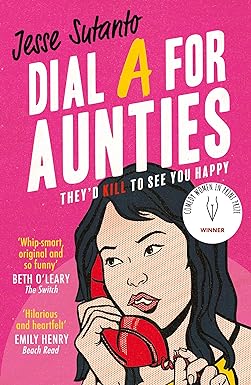 Dial A for Aunties
Author: Jesse Q. Sutanto
Genre: Mystery, Romance, Humor
What happens when you mix 1 (accidental) murder with 2 thousand wedding guests, and then toss in a possible curse on 3 generations of an immigrant Chinese-Indonesian family?
You get 4 meddling Asian aunties coming to the rescue!
Summary:
"Dial A for Aunties" by Jesse Q. Sutanto is a delightful blend of mystery, romance, and humor. The story revolves around Meddelin Chan, a young wedding photographer who accidentally kills her blind date. Panicked, she turns to her mother and three aunts for help. The four women, known for their catering business, try to conceal the body, but complications arise when the corpse goes missing during a lavish wedding at a billionaire's estate. As Meddy and her family attempt to unravel the mystery, they also navigate the challenges of love, family expectations, and secrets.
Overall Impression:
"Dial A for Aunties" is an absolute delight from start to finish. Jesse Q. Sutanto's writing is witty and engaging, blending humor and suspense seamlessly. The story is a rollercoaster of emotions, with laugh-out-loud moments and unexpected twists that keep you eagerly turning the pages.
Recommendation:
"Dial A for Aunties" is highly recommended for readers who enjoy a light-hearted and entertaining mix of mystery, romance, and humor. Fans of books like "Crazy Rich Asians" by Kevin Kwan or the works of Sophie Kinsella will likely find this novel a delightful addition to their reading list. Additionally, anyone interested in exploring family dynamics and cultural themes in a fun and engaging way will thoroughly enjoy this book. Jesse Q. Sutanto's storytelling is both heartwarming and hilarious, making "Dial A for Aunties" a must-read.